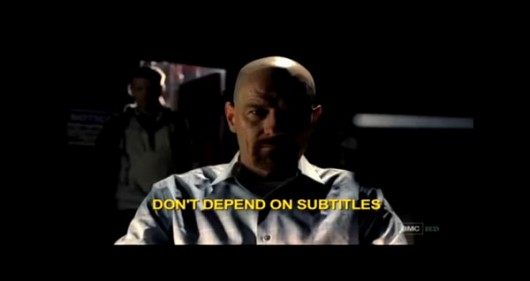 Quem gosta de filmes e seriados costumam assisti-los através de download. Alguns baixam os arquivos prontos, já legendados. Outros preferem baixar via Torrent e baixar as legendas separadamente.
Como tudo hoje em dia está virando mídia, adivinhem só? Sim. As legendas de filmes / séries em torrent viraram plataforma de divulgação para a Británico, escola de inglês Peruana.
A Young & Rubicam criou os próprios arquivos de legendas em espanhol para algumas das séries mais baixadas do mundo, como The Walking Dead, The Big Bang Theory e Breaking Bad. Porém, o que estava escrito não correspondia exatamente com as falas dos personagens (odeio quando isso acontece). Mas antes mesmo de os telespectadores notarem o erro (vai achando), vinha o texto na legenda: "não dependa das legendas. Venha para a Británico".
Como assisto muitas séries e filmes assim, acho que ficaria meio irritada na hora. Mas como publicitária, achei genial a ideia. Atinge o público certo, além de ter sido bem diferente das coisas que a gente vê por aí :) E aí, qual seria a sua reação?